UST joins the Business Agility Institute to help transform lives and organizations for lasting impact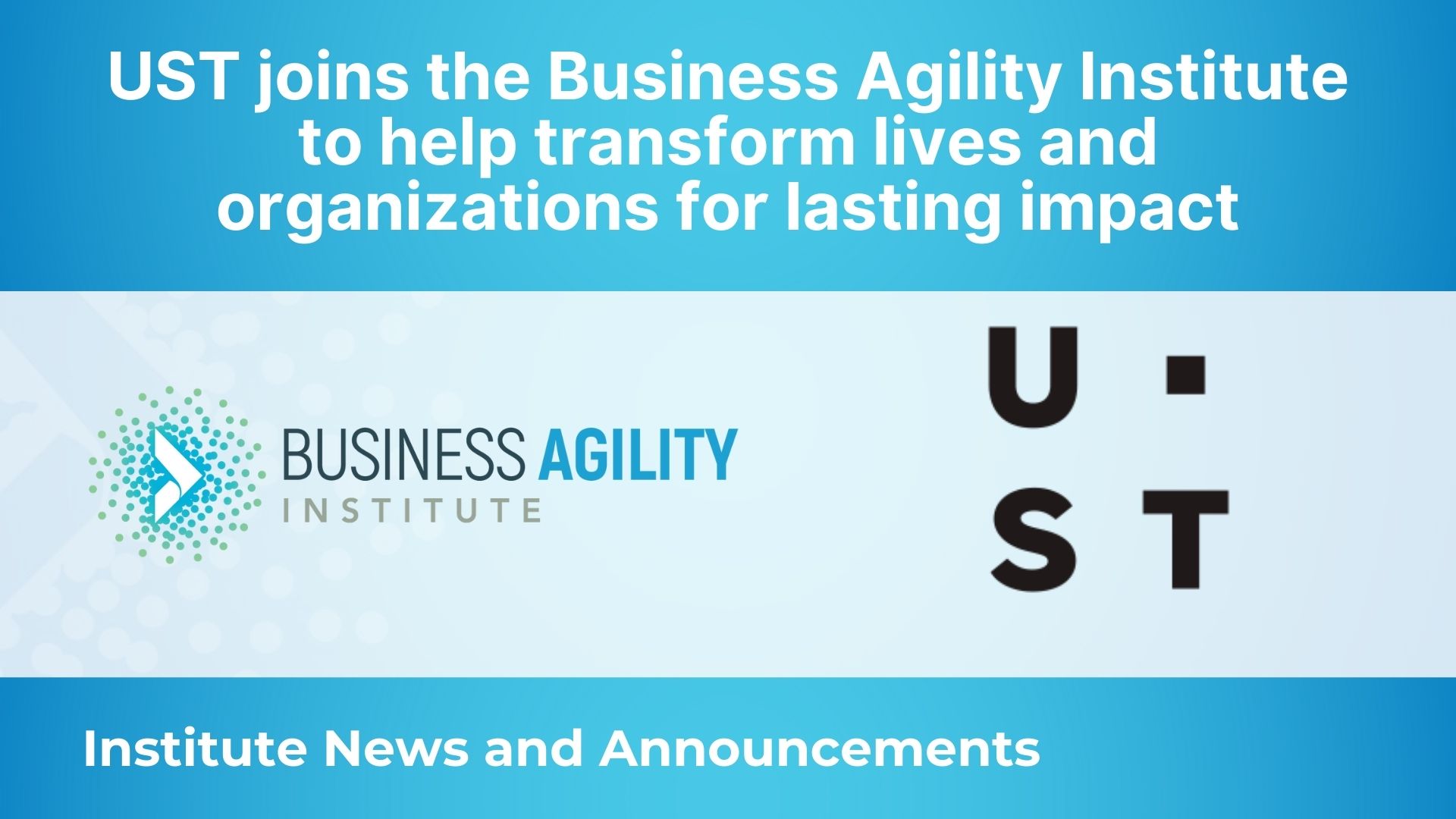 UST supports the Business Agility Institute's mission of furthering the science of business agility by bringing its deep expertise in supporting companies to thrive in the modern economy.
CALIFORNIA, UNITED STATES — The Business Agility Institute (BAI) recently announced and welcomed UST as their latest corporate member.
UST is a global digital transformation solutions provider. With over 30,000 employees in 25 countries. UST has worked side by side with the world's best companies to make a real impact through transformation. Powered by a business agile, hands-on approach, UST works with clients to decipher core problems, then design, build and execute experiences that solve them with ease and empathy, inspired by people and led by purpose This partnership highlights UST's thought-leadership in business agility and their commitment is supporting the global business agility community.
Through this membership, UST has committed to contributing their expertise and experience towards BAI research and publications. Aligning with USTs mission to build for boundless impact—touching billions of lives in the process.
"We believe our partnership with BAI is a unique proposition to collaborate in the continuous evolution of business agility to better serve our clients" says Omar Velasco, VP Business Agility Services at UST. UST embeds innovation and agility into their clients' organizations and has long been recognized as a leader in the market.
The dynamic and unpredictable nature of modern business has changed the way companies think and work. And the pace of this change is ever-increasing. Organizations that stay too long in one place may find that customers– and competitors – have moved on.
"We're proud to have UST join us and look forward to collaborating" says Evan Leybourn, CoFounder and CEO of the Business Agility Institute. "While the impacts of COVID-19 have served to highlight the challenges in the modern economy, uncertainty and disruption have always been a part of the marketplace. This is why UST's experience in guiding and listening to their clients is so important."
About UST: UST has helped the world's best companies succeed through transformation. Using a nimble, creative approach they work together from start to finish to realize their vision for tomorrow. With the right talent and tools, they craft disruptive solutions, and provide the resources and expertise clients need to bring them to life.
Learn more about UST at http://ust.com
About Business Agility Institute: The Business Agility Institute (BAI) is a fiercely independent research & advocacy organization for the next generation of companies. Members in the Business Agility Institute join together to create a better future of work. They support organizations, teams, and individuals breaking away from traditional business models by providing the primary research, connections, information, insights, and inspiration required to try something different and embrace a customer-driven world of fast-paced change.
Learn more about joining the Business Agility Institute as a member at http://businessagility.institute.