For those of you following the #noprojects hashtag, my book, with Shane Hastie, has finally been published. We started writing it 3 years ago and we're are so proud with what we've created. Just the right combination of information, history, storytelling and sarcasm. Download or buy a copytoday.
-Evan
---
Editor's Choice
#
noprojects

 – A Culture of Continuous Value (Evan Leybourn & Shane Hastie)

Today success comes from building products people love, creating loyal customers and serving the broader stakeholder community.  In this thoughtful exploration on the future of work, the authors explore the past, present and future of the "project". And why, in today's fast-changing & hyper-competitive world, running a temporary endeavour is the wrong approach to building sustainable products and how #noprojects is fundamentally changing the way companies work.

Evan Leybourn and Shane Hastie share their insights, experiences, and vision for the future in this accessible and light-hearted book.
[Video] From Hierarchy to High Performance with Doug Kirkpatrick
Can people manage themselves at work without bosses, managers and supervisors? Can people lead and innovate in real-time response to new opportunities and challenges? Can organizations create work environments where people are free to thrive and do their best work? Can leaders develop organizations where everyone has a voice in matters that affect them, and where no one has to "lean in" because they're already in?
[Video] A Story of Leadership Transformation
by Susan Courtney | EVP Operations @ Blue Cross Blue Shield of Nebraska and Joni Wheeler | President and CEO @ CoreLink Administrative Solutions
---
Business Agility Library Spotlight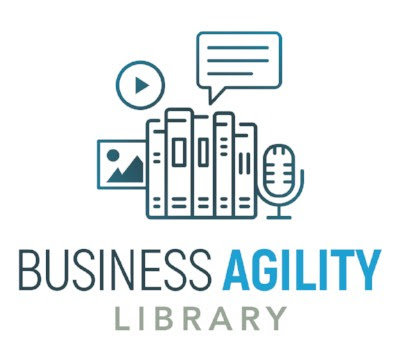 Case studies, interviews, and reference material on Enterprise Agility
New in the Business Agility Library: We are only now starting to think about Enterprise Agility as a discrete domain. Over the last 20 years, as individual teams became agile, the constraining factor for agility to scale was the other teams within the division. Now, as entire divisions and departments scale to become agile, the constraining factor for agility is the rest of the organisation.
» read more [Business Agility Library] »
---
Journeys, Stories and News
---
Business Agility Events
Business Agility Conference Australia
SYDNEY, AUSTRALIA • SEPTEMBER 24 – 26, 2018 • PRESENTED BY YOW!
Government Agility Conference
WASHINGTON DC • NOVEMBER 13 – 14, 2018 • PRESENTED BY BUSINESS AGILITY INSTITUTE
Business Agility Conference India
HYDERABAD, INDIA • NOVEMBER 23 – 24, 2018 • PRESENTED BY ESKAYS
Business Agility Conference
NEW YORK CITY • MARCH 13 – 14, 2018 • PRESENTED BY BUSINESS AGILITY INSTITUTE
---
Business Agility Institute Corporate Members